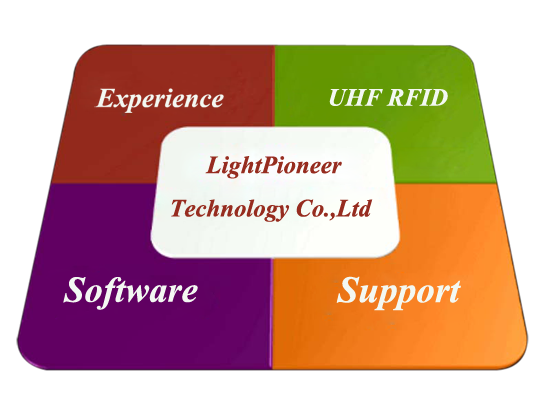 Experience
Light Pioneer focus on the business of IOT(Internet of Things) products and application solutions for years. This experience enables its team of experienced professionals to understand your requirements and deliver the correct RFID solutions in order to maximize ROI and ensure expand-ability to support growth and new requirements.
UHF RFID
Our core competitive products are UHF Smart Readers(Long-range distance All-in-one readers, 4 channel readers, Desktop USB Readers, Hand-held Terminal and PDA) and UHF Special Smart tags(With metal resistance, high temperature resistant, outdoor environment application, etc) and software support. LightPioneer has our own R&D and production team, and Cover on-metal tags, paper RFID tags, shaped cards, integrated fix readers and handheld readers, etc. Besides,  we provide solutions for relevant project application consulting. We are famous for closely cooperating with the system integration partners and providing high performance cost-effective products and rich experience.
Software
Light Pioneer's RFID software is designed to be flexible and modular allowing it to be built upon and easily interfaced to third party back end inventory/accounting packages if needed. It allows us to offer you both off the shelf solutions and to rapidly customize a solution to provide unique services. Once again, you are provided with the correct and cost effective solution to meet your specific needs.
Support
Light Pioneer's support begins on day one. Our sales personnel, technical support staff are a highly integrated team of knowledgeable problem solvers. Light Pioneer's sales staff has in depth knowledge of our products: how can they be used, where can they be used, where they cannot or should not be used, what is the most efficient way to implement the solution. Our technical support team is also available to provide in depth specific information. We also provide you with options for long term or ongoing support and upgrades should that be your requirement.