RFID help to overcome Aerospace MRO difficulty
Maintenance, repair and overhaul (MRO) operations had brought a lot of challenges for manufacturers and other enterprises. In the aviation industry, artificial tracking is very common, it need technical personnel records a serial number of parts that are hard to reach and then continue working. MRO is a huge problem for following the high standards of federal regulations and ensuring the safety of the aircraft, but now, RFID technology enables conquer these difficulties.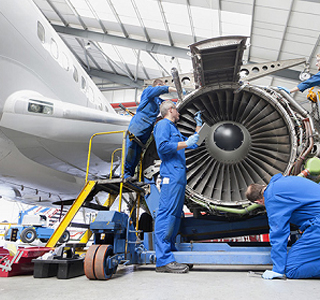 According to market research report last year, the global aircraft engine MRO market compound annual growth rate (CAGR) will reach to 6.42% through 2019. This means that more technical staff need to complete the paperwork for a large number of parts than in the past.  Manufacturers and operators urgently need an high efficient way to track maintenance records and repair parts — — RFID provides an efficient and reliable choice.
By using of the RFID technology, embedded tags were installed on each aircraft can record maintenance records completely. Equipment can quickly read the inspection and maintenance records of key components, to minimize the time to complete inspections, and saving aircraft downtime.
RFID Tags were mounted on parts through a variety of adhesive, screws or rivets; or rigid ring fixed. Light Pioneer has been developed the aircraft RFID tag which withstand the harsh environment (extremely hot and extremely cold, depending on the installation position of the label) of the aircraft operation, as well as shock and vibration during the process of taking off and landing. Smart labels can be installed on the parts without interfere with operation.
In addition to simplifying inspection and maintenance operations, the tag also provides lifelong maintenance records and flight history, so parts can be replaced periodically. This improves security, and eliminate the time and errors of manual tracking program. Besides, rugged embedded RFID tags can also be utilized  to track tools and equipment used during the MRO operations.
Light Pioneer's SMART series of UHF RFID metal tags are available in 10 different sizes – including rectangular formats and circle, our LP-1620(Φ16*3mm) model support 1.5K/64K high memory.