Long Range High Memory RFID UHF Mount On Metal Tag(LP-2525)
Description:

The LP-2525 is a long range reading/writing ceramic uhf rfid tag, support mounted on metal, it has high memory chip optional. Provide a good solution for big equipment, IT asset management. Specially for aerospace management.
Features:

Long distance recognition
Industrial grade high strength and durable
Protocol
ISO18000-6C(EPC C1G2)
Operating Frequency
865~867MHz or 920~925MHz
Working Mode
Read/Write
Polarization Mode
Linear
Memory
EPC:96 bits, (Can add 512 bits)

1.5K&64K Optional

Data Protection
Password Change,Lock and Destroyed
Data Maintain
Over 10 years, Write circle above 100,000 times
Operation Temperature
-30~85℃/ -22~185℉
Storage Temperature
-40~160℃ / -40~320℉
Reading Distance
Above 3.0 m (Handheld Reader with 28dBm)
Above 4.5m (Fixed Reader with 30dBm)
(Reading distance depends on the environment,readers,etc)
Size
25*25*2.7mm
Weight
8.53g
IP Rate
IP65
Color
White(Can be Customized)
Application:

Tools/Parts tracking management
Hazardous article management
Large equipment and IT asset management
About chip for high memory UHF tags — Quanray Qstar-2A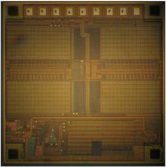 Qstar-2A is a highly integrated single chip UHF RFID Tag IC. The chip conforms to the EPC global Class 1 Gen 2 protocol, and therefore capable of identify speeds of up to 200 tags per second (based on 96-bit EPC).
Qstar-2A operates at extremely low power levels, and read and write performance is enhanced by Qstar-2A's proprietary antenna diversity approach, affording insensitivity to tag orientation and overall robust operation.
Qstar-2A is implemented in a low cost CMOS process and uses proven and cost effective EEPROM technology.
Qstar-2A offers maximum 64k bits User memory for widely application. User memory can write locked on 4k bits boundaries, supporting a variety of public/private usage models. To preserve privacy and prevent unauthorized tampering, Qstar-2A also features a kill switch with secure 32-bit password protection.